That's a product of the history of those leagues, but it will probably continue as a product of EU laws. London-based attorney Andrew Nixon of Sheridans focuses his practice on representing sports governing bodies, clubs, agencies and athletes. He says the NFL draft would probably be permissible under the competition laws, because it is collectively bargained between the owners and players. It's the same reason the NFL draft is allowed under antitrust laws in the United States. "The trickier issue with the draft system would be that it would breach a worker's right to move freely, and the EU distinguishes between exemption under competition rules and exemption from free movement rules," Nixon said. When the EU was formed, a treaty was enacted giving certain rights to all European Union citizens. One section of that treaty makes the free movement of workers a fundamental principle, allowing an EU citizen to move between EU countries for work without needing a work permit or having to live there for that purpose. According to the NFLPA, the league currently has 15 players who were born in EU countries, among them Bjoern Werner (Germany), Osi Umenyiora (England) and Sebastian Janikowski (Poland). Would the presence of EU citizens be enough to apply the EU's laws to the NFL? No one knows the answer to that question. And what if the team were technically based in the U.S. but played all of its home games in London?
London NFL franchise: Money and opportunity are driving the dream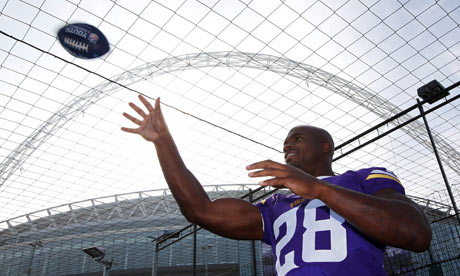 In between downs and downtime at his team's plush Hertfordshire hotel, the Vikings safety Harrison Smith admits that a "bunch of us have been talking about it". When you suggest to Smith the towering obstacles facing a NFL London team from tax codes and time zones to the brutal logistics of transporting so much muscle and machinery over the ocean and back he does not demur. "But there's always a way to do it, especially in today's world," he says. "The truth of it is this: as fun as it is to play football, it's a business. If there is an opportunity to make money there will be a franchise here." And money and opportunity are driving the NFL's foray eastward. American football is America's game, not the world's. A European franchise would not only put down new roots but provide additional revenue from TV rights and shirt sales. There are other reasons why the NFL is flirting with the UK. As a nation we gorge on sport, but not usually on Sunday nights between 6pm and midnight when most NFL matches are played. There is the shotgun-wedding legacy of the 80s when the NFL's popularity soared due to Channel 4's coverage. As Alistair Kirkwood, the managing director of NFL UK, pragmatically explains: "We also have a lot of owners who have sport and business interests in the country." "It's not just about money," he says. "It's also about safeguarding the health and popularity of the sport in a generation's time.